Welcome to the world of the free-heel skiing
The primary alpine skiing technique, which has been rediscovered, is increasingly appreciated – with modern equipment, it has reached levels of expression comparable to other downhill techniques.
Versatile and harmonious, it is possible to approach it naturally through private lessons or through on-request group lessons based on the needs of the group (rates to be agreed). Our instructors specialised in Telemark will be happy to help you experience a "freer" version of modern skiing.
The main feature of Telemark is the lack of heel support, creating a range of situations that make it more difficult to control your balance. Movement and bending are also important to find the right Telemark position through kneeling. The equipment, different from normal skis, can be rented, and includes: boots with a soft tip to allow the ankle to bend; skis with a particular attachment that hooks only the tip of the boot and telescopic poles, in order to shorten and lengthen the size as needed.
Private Lessons
What it includes:
Ideal for those who want more one-to-one attention, from beginners to experts, of any level, highly customised to the specific needs of the students
Reduced price on the second student
Lessons by qualified and specialised instructors
TELEMARK EQUIPMENT IS NOT INCLUDED
Learn more about rates
HISTORY OF THE TELEMARK TECHNIQUE
Let's get down on our knees and see the slopes from a new perspective.
Telemark, also known today as "free-heel skiing", is the oldest technique for adapting to various situations of snow and slopes. Historians date the dawn of the use of tools similar to skis to before the invention of the wheel. The name of the technique comes from the Norwegian region of the same name from which it spread in modern times.
A rock inscription found in a cave on the Norwegian island of Rødøya, dating around 3000 BCE, depicting a hominid with curved boards at his feet and a spear in his hand, and "prehistoric skis" found in a bog in Hoting (Sweden), dating back to 500 years later, are proof of this.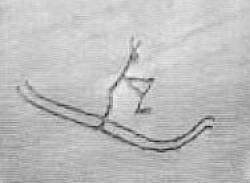 Originally aimed at the locomotion needs of humans in the Nordic countries (for this reason the heel is mobile, thus allowing users to walk by sliding on wide "boards", closer to "downhill" skis than to "cross-country" ones, in order to float on fresh snow), today Telemark is a refreshed mode of expression for lovers of descents..
After a long absence from the snow in favour of the more modern "parallel" skiing, it made its official reappearance in the Alps in 1983 at the Interski of Val Pusteria. Here, with the equipment having been refreshed and the technique perfected, a new Telemark is presented, revolutionising the current concept of skiing. Morten Aass surely introduced the free-heel technique in Italy well before then!