We place a strong focus on the teaching of snowboarding from the youngest to the oldest users.
From the very first hours of lessons, our snowboard instructors will help you understand the correct basic position that will allow you to intentionally move on simple terrain up to the steepest slopes.
Being followed by a snowboard instructor from the Cortina Ski School will become a new source of inspiration for both you and your children. Start with individual lessons and then have fun with your friends in a group.
Private Lessons
Snowboard Course
Family Pack

What it includes:

Ideal for those who want more one-to-one attention, from beginners to experts, of any level and technique; lessons are highly customised to the specific needs of the students
From first snow to competition
Reduced price on the second student (subject to season period)

Learn more about rates

What it includes:

Six consecutive rounds from Sunday to Saturday
The course runs from 10am to 1pm
Minimum 4 participants - Maximum 5-6 participants
Transport NOT INCLUDED
Children's' Course for kids aged 4 to 14
Adult course for people from the age of 14
Special Courses on request, in-SEASON ONLY
Discounts for the second child
Family Discount, in-SEASON ONLY
In case of non-attendance (minimum 4 participants) the Ski School can offer individual hours at the same value as the expenses incurred

Learn more about rates

What it includes:

Ideal for families, up to a maximum of five people belonging to the same family unit
Three hours of lessons with your family
The family course runs from 10am to 1pm

Learn more about rates
First time with the snowboard? Not sure if you are "Goofy" or "Regular"?
To discover your position, just position yourself with your back to a friend, with your feet together, and let yourself be pushed suddenly. The first foot that moves in order to avoid falling forward will be the foot to be placed in the front position on the board, the so-called "advanced foot". This is the foot that is used by automatic reflex (it's also the foot you use to slide). However, bear in mind that current studies suggest that bilateral learning is more important.
Gait with right leg forward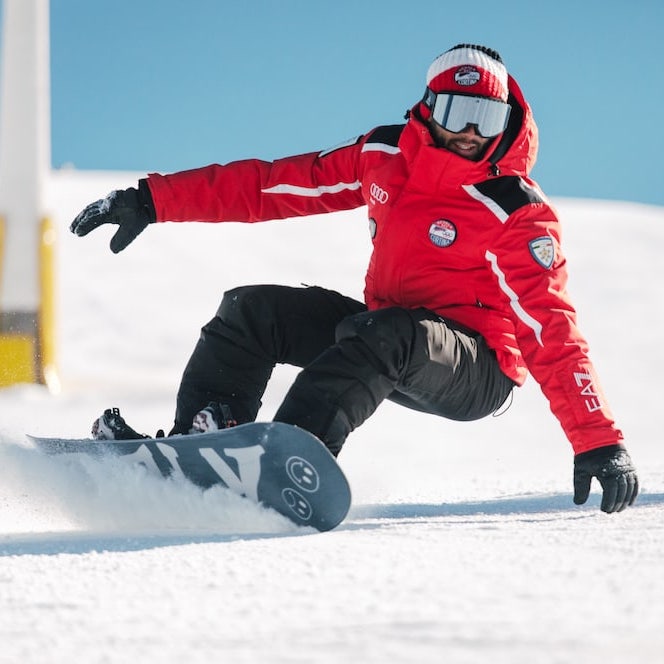 Gait with left leg forward